Happy Friday! Let me just say, your comments yesterday were awesome and hilarious! Before I get started talking about some of my favorites this week, I just have to take a moment to say a huge "Congratulations" to our link-up host,
Miss Lindsey
! If you don't know Lindsey, she was just recently offered her dream job and will be relocating to another state in just a couple short weeks. She's announcing today where her new home will be. Lucky for me, I already know so the anticipation is no longer killing me :)
Congratulations to my favorite Bargain Blonde!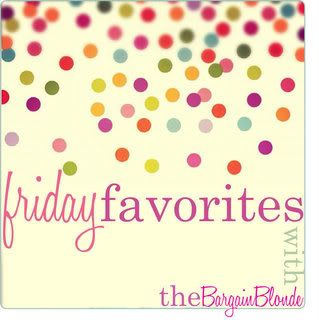 Now, let's talk favorites!
Favorite Moment
I had one single, solitary moment of solitude this week. I put on my comfies, grabbed that delicious gelato I mentioned yesterday, and turned on some Ian Somerhalder Vampire Diaries. Relaxation at its finest. Have you bought your own sea salt caramel yet? What are you waiting for?
Update: I am officially #TeamDamon
Cue the "I told you so" comments ;)
Favorite Commercial
I am almost ashamed to admit this but I saw this commercial once and just about died. I do not watch Family Guy but this is funny. I feel the same way about the "h" emphasis...
By the way, Wheat Thins + cream cheese = delish.
Favorite Album
I have recently fallen in love with

Mat Kearney

. I loved his song "Runaway" on the Soul Surfer soundtrack and "Hey Mama" is such a fun tune! Last night, I downloaded his album Young Love [the Deluxe Edition] and I can't get enough of it. His sound is so unique! Perfect driving music :)
Favorite Purchase
I've mentioned how I've been working on a new Fall line for After Sunset, full of new looks, new colors, new material and I just couldn't be more excited. I've been working away and needed additional supplies so I headed to the store where I picked up all these goodies :)
Colors make me so happy. Especially now that they are permanently temporarily stained into my skin from working away with the clay :)
Favorite Outfit
Blair posted this outfit on her blog Atlantic Pacific and I adore it. I think we all know already how much I LOVE that military jacket. I never would have thought to pair it with that beautiful shag skirt. I have no clue where I'd wear this but I'd find a place because I love it that much :)
And those are my main favorites from the week!
This weekend, I'll be spending more time in DC, meeting up with Raquel for lunch and cupcakes :) Then, I'll be knocking out more necklace designs and hopefully doing a little re-organizing and downsizing.
What are your plans?