The day is here! The big reveal :)
Ladies and gentlemen, I now introduce to you Project Inspire.
It's a cute little snail mail post hosted by me and Hollie from Hollie Takes Notes.
There's just something special about getting mail - and we wanted to create a swap that wasn't gift specific, and wouldn't put a dent in your wallet. [You can easily keep this under $5.00!]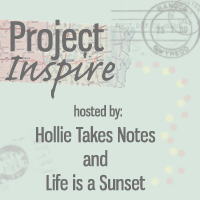 We have both witnessed first-hand how loving and inspiring this blogging community is.
So, this swap is all about sharing that inspiration through a card you send to your swap partner!
Whether you buy a pretty card at Hallmark or make one by hand, that is totally up to you.
Write something special to motivate, encourage, inspire - whatever your little heart desires! It can be a quote, a story, a lesson learned, songs that make you smile, etc.
Make it special, make it unique, make it you! :)
Here are the details:
Voila! Be sure to grab the button above, share it on your blog, and spread the word via social media - the more the merrier! :) We want as many people as possible to join in and receive new inspiration and share motivation!
*Please only sign up if you are serious about this and will send out a card. Otherwise, this swap won't work the way we intended it to!*
If you have any questions, feel free to email me or leave a comment below!
We are so excited :)