Dear Pretty Little Liars -
You win. I started watching you on Netflix last week and I can't stop. My lunch breaks aren't long enough. I want to marry Mr. Fitz. [no spoilers, please!!!!]
You cannot get here soon enough. You just cannot. And as soon as you get here, I plan on soaking up every second of you that I can. Starting with a little retail therapy :)
I'll figure you out soon. You've stayed with me for years now and I keep talking myself out of you but that doesn't make you go away. Nor should it. I promise I won't let others talk me out of you either. The time is almost here to work hard and make you come true!
Dear Bloggers -
So many of you inspire me every day. You have been the biggest support for me through my toughest moments. Because of how loving and inspiring this blogging community is, Hollie [Hollie Takes Notes] and I have created

Project Inspire

- a snail mail swap of motivational cards/notes!
Check our blogs on Tuesday for all the fun details and to sign up! :)
Dear Jewelry Lovers -
Have you checked out the latest additions to my shop, After Sunset? That Cove Necklace below in Ballet Pink is now for sale :) Stop by the shop here and see what else we have! Today, I'm wearing the Ombre Necklace in Sunburst Orange [Again. I am always wearing orange these days it seems!]
Linking up with Ashley for Friday's Letters and you should too :)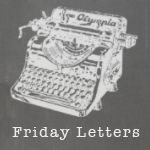 Enjoy your last weekend of Summer!! Can you believe it?