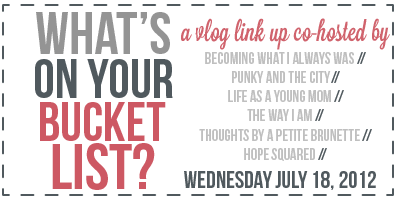 That's right. It's happening. For the first time in about a year, you get to watch me VLOG! [video log]
I'm getting a little personal and talking about my Bucket List!
So watch it, enjoy it, and join in on the fun by clicking the button above!
The reason I titled this post Part of Me is because 1) It's Katy Perry week on my blog [mmhmm!] and 2) this past year has been one heck of a ride for me.
That's where this bucket list came in.
This is my life and I will never, ever let anyone dull my sparkle again.
Like Katy Perry said in her movie, "this is my second chance."
God is giving me this time as a single woman to accomplish so many of the things in my heart.
I have been taking advantage of this time and have already checked off many of the "me" things I've wanted to do.
In just this past month, I bought a new car and started acting again!
And now my bucket list awaits!
I owe it to myself to continue glowing.
To never, ever allow another person into my life who has or will put me out.
This life is too short and there is too much happiness to be had and things to experience...
Fully, whole-heartedly, and with bright eyes.
So, here's to the part of me that's always been here and always will be.
The girl with a big heart and big dreams.
Thank you, Katy for this song. I think it goes without saying that it is the number one most-played song on my iTunes playlist :)